Jurassic World: Dominion Dominates Fandom Wikis - The Loop
Play Sound
Unfortunate Son is the one hundred-fifteenth episode of King of the Hill. It was first aired on March 10, 2002. The episode was written by Alex Gregory and Peter Huyck, and directed by Anthony Lioi.
Synopsis
Cotton's VFW is in dire straits as members are lost to the grim reaper. First, they're behind on their propane bill, then their fundraiser goes awry, and are finally evicted from their building. To Peggy's displeasure, Hank invites the VFW into their house. In order to get them back into their own building, Peggy suggests that the VFW should invite Vietnam vets to join their organization. Cotton and the WWII vets don't like this idea ("Vietnam boys?" says Cotton. "No goddang way! The VFW stands for Veterans of Foreign Wars, not reefer-Smokin' losers!"). The WWII vets are desperate and host a picnic to which a group of Vietnam vets are invited. The vets who show up, however, are in group therapy suffering from post-traumatic stress disorder. When the older vets start ragging on the younger men it leads to a new confrontation with many of the still traumatized Viet veterans going through episodes. Cotton and Hank are chased through the woods until they are cornered on a cliff. Hank tells his dad he's sorry, but Cotton says he has nothing to be sorry for and that he did a good job. Hearing this the Vietnam veterans all snap back to reality, saying that all they ever wanted was to here someone say thanks for what they did. Cotton says he's impressed by them managing to corner him better than any enemy soldiers, and he walks off chatting with one of the younger veterans.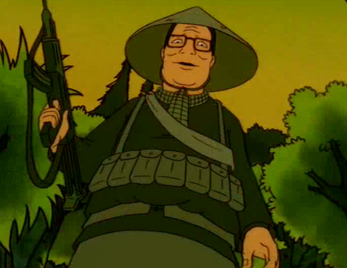 Meanwhile, Dale, having purchased an antique falconer's glove that supposedly belonged to Herman Goering at the veteran's fundraiser gets a pet falcon that likes to attack Bill constantly.
Background information
The episode seems it could be inspired by the Sylvester Stallone movie "First Blood", in which a disturbed Vietnam Veteran is pushed too far and hunts those who provoked him, employing guerrilla warfare. Cotton provokes the Vietnam Vets and he and Hank are hunted through the forest in a similar way. In both occasions the Veteran's corner and defeat their antagonists.
Characters
Stinger Quote
Bill: (while being attacked by Dale's falcon) "AAHHH! AAHHH! IT BITES!"
Cultural References
The episode title is a reference to the Vietnam war protest song, "Fortunate Son" by Creedence Clearwater Revival.