Jurassic World: Dominion Dominates Fandom Wikis - The Loop
Play Sound
Torch Song Hillogy is the one hundred-eleventh episode of King of the Hill. It was first aired on February 17, 2002. The episode was written by Emily Spivey, and directed by Anthony Lioi.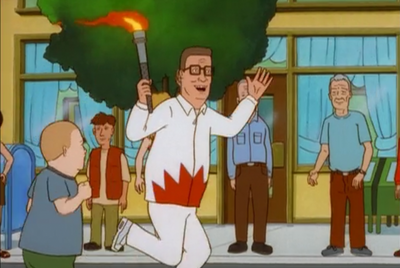 Synopsis
Peggy nominates Bobby to carry the 2002 Winter Olympic Torch through Arlen to make him feel good about himself. But it's Hank who wins the honor when Dale, Bill and Boomhauer nominate him based on his high school football performance. However, this stirs up old ghosts in Hank, and he explains to Bobby the sin of pride, showing old film footage of him as a high school football player. Hank had just scored a touchdown in a championship game and was doing a "walk like an Egyptian" dance in the endzone to celebrate. Immediately afterwards his ankle was crushed, which ruined his chances of getting a football scholarship to college and furthering his athletic career, to which Hank says God punished him for his behavior. Bobby says the injury, though unfortunate, had nothing to do with the end zone dance, and Hank accepts maybe it was coincidental, and gladly accepts the honor to run with the torch, starting at the town lines at Durndell and finishing at McMaynerberry. Dale thinks it is funny to light a cigarette with the torch and keep smoking with the "same flame".
Hank is elated to run through town, and does a hop, skip and jump on an empty street. However, he drops the torch into a puddle, which extinguishes the torch.
Bobby, and in a way Dale make up for this when they use the cigarette Dale lit using the Olympic flame. The torch is relit, Hank completes his leg of bearing the torch through Arlen, and he presents it to Bobby as a trophy.
Characters
Stinger quote
Gallery
Goofs
The actual torch used for the 2002 Olympics relay looked nothing like the one depicted on KotH, and featured a design in which the flame was encased in glass, which would have made it impossible for Bobby to light with a cigarette.
Hank and the other torchbearer's outfits look more like uniforms from the Canadian Olympic team than the real jumpsuits used for the relay, which featured a blue motif (rather than red) on white.