The Substitute Spanish Prisoner
is the one hundred-fourteenth episode of King of the Hill. It was first aired on March 3, 2002. The episode was written by
Etan Cohen
, and directed by
Kyounghee Lim
and
Boohwan Lim
.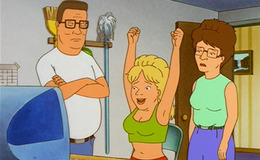 Synopsis
After handing back tests to her class, Peggy is dumbfounded when Dooley asks her to explain the answer to a question. To restore her self confidence, Peggy takes an internet IQ test and discovers she's a genius. She attends a seminar with other local 'geniuses,' one of whom is Jimmy Wichard which should have told Peggy something, and ends up buying a phony Ph.D. Angered that Peggy has spent their retirement money, Hank explains to her that she is the victim of a scam. Peggy must prove that she is smart by getting the money back, and is inveigled into further dealings with the con man.
References
The episode title is a pun on the Spanish Prisoner con scheme and Peggy's job as a substitute teacher of Spanish and other subjects.
The con Peggy uses to try to get all their money back is called the Wire Game.