The Panhandler Steakhouse 
is a steakhouse restaurant in Arlen.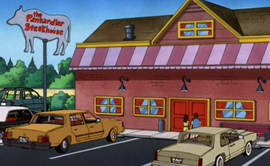 The restuarant has an eating challenge in which if a patron finishes a 72 ounce lonestar sirloin steak within one hour, the meal is free of charge. It's home to the world's longest salad bar, and the second longest sneeze guard, according to a server. The theme of the restaurant is a cowboy theme steakhouse. 
Appearances
And They Call it Bobby Love
This restaurant appears in the episode And They Call It Bobby Love where Bobby goes and to eat with his parents Hank and Peggy after getting dumped by his girlfriend Marie where he then sees her in the restaurant eating with her parents despite Marie being a vegetarian. Bobby then orders the 72 ounce lonestar sirloin steak challange, and Bobby finishes the 72 ounce steak, as Marie looks on in anger, and other patrons including Marie's parents cheering him on. When Bobby eats the final piece of beef, Marie is left disgusted. When Bobby gets home, he then vomits out the 72 ounce steak he finished as Connie looks on. 
The Company Man
In the episode The Company Man Hank takes Mr. Holloway with Peggy to a steak dinner in this restaurant. With Hank trying to impress Mr. Holloway, Hank makes Peggy dress up like a cowboy, which Peggy's outfit is the same as the restaurant servers, which the servers told her to go back to work a couple of times since Peggys is wearing the same outfit as the restaurant servers, the servers think that Peggy works as a server. When they are in line in the salad bar, they run into Dale, and Nancy then Hank doesn't want Mr. Holloway eating since he ordered the 72 ounce lonestar sirloin steak challenge, but after receiving the steak order, he takes one bite out of the steak quits, and says he's done with the patrons booing him. Mr. Holloway then goes to a game machine, and then Hank hears that Thatherton's table is ready which Hank then wants to leave since Hank doesn't want Mr. Holloway to see Thatherton. Eventually, Mr. Holloway and Thatherton is seen playing the game machine together.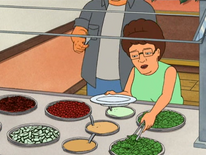 Phish and Wildlife
In the episode Phish and Wildlife, Peggy creates a salad at the restaurants salad bar which she considers the particular combination of ingredents innovative.  
Arlen City Bomber
In the episode Arlen City Bomber, Peggy and Luanne meets with their roller derby team in the restaurant multiple times in the episode.