Jurassic World: Dominion Dominates Fandom Wikis - The Loop
Play Sound
The Miseducation of Bobby Hill is the one hundred-forty-second episode of King of the Hill. It was first aired on March 16, 2003. The episode was written by Tim Croston and Chip Hall, and directed by Tricia Garcia.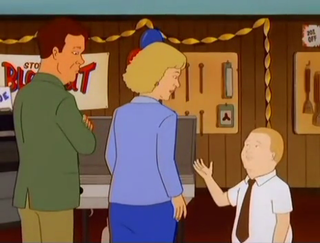 Synopsis
Bobby becomes a salesman at Strickland Propane. Instead of informing customers about the grill and how to safely and properly use it, he instead uses Joe Jack's way by entertaining and humorously encouraging the customer to buy propane tanks. Bobby briefly finds success this way and even beats the record of most sold propane tanks, previously held by Hank Hill. However, the plan backfires and Bobby receives dozens of complaints from angry customers, leaving it up to Hank to solve the problem, which he does, reclaiming the record in the process.
Elsewhere, Bill goes on terrifying flight in a lawn chair with weather balloons after Dale fails to prevent his escape.
Characters
Trivia
The title of the episode is a reference to the 1998 album by Lauryn Hill called "The Miseducation of Lauryn Hill".
The scene where Bill takes flight with his left ankle accidentally being tied to the lawn chair with weather balloons and the scene where Bill manages to return with himself freed from the flying lawn chair's grip are digitally inked and painted.
The lawn chair flight is based on the flight of Larry Walters in a homemade airship made of an ordinary patio chair and 45 helium-filled weather balloons.
It's insinuated that the sales cookies are classical conditioning, as Joe Jack says he starts drooling whenever he hears a bell now.
Gallery