Jurassic World: Dominion Dominates Fandom Wikis - The Loop
Play Sound
The Final Shinsult is the thirtieth episode of King of the Hill. It was first aired on March 15, 1998. The episode was written by Alan R. Cohen and Alan Freedland, and directed by Jack Dyer.
Synopsis
At the Tom Landry Middle School, Peggy fills in for Mrs. Dorland, on sick leave due to hantavirus. Some students reenact a battle from the Mexican-American War, one in which the Illinois Volunteer Infantry captured the artificial leg of Mexican General Antonio López de Santa Anna in 1847. When the reenactment ends, Peggy explains that the general's prosthesis, which has been on display in an Illinois museum for over a century, is about to be returned to Mexico by the United States government. The leg is currently on tour and the Arlen museum is its last stop in the U.S. Meanwhile, Cotton informs Hank that he and Didi have split up for good. Since Didi had acted as his chauffeur, Cotton must now pass an eye exam to renew his driver's license. Concerned that his father would present a danger to the public, Hank deliberately sabotages his father's efforts to recite a memorized eye chart during the test. Later, when Cotton learns from Dale that his own son conspired against him, he moves in with Dale and his family.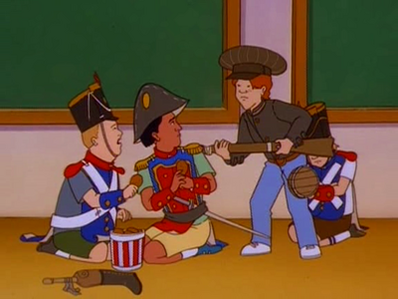 Dale is so flattered to have Cotton in his home that he creates a phony driver's license for the old man, though the back reveals that it was clearly made from a General Mills Cheerio box. Cotton's attempts to drive cause him to crash into a parking meter. An African-American woman on the police force first asks Cotton to step out of his car and show her his drivers license, but then places him under arrest after he slaps her in the rear end. However, the officer declines to book Cotton, who she only held in her squad car, and gives Hank custody of him, believing that Cotton suffers from senile dementia. When Hank drives Cotton back to his house, he immediately hops out of the truck and goes to Dale's house. Hank attempts to forge a reconciliation with Didi, who recalls how Cotton, a lover of large rear ends, fell for her after catching a view of her posterior magnified through an overturned jar. According to Didi, Cotton broke up the relationship because her derriere is now too small. In an attempt to win back his father, Hank asks Cotton to chaperone Bobby on a museum trip. Flattered, Cotton takes up the offer. But Cotton grows angered during the museum tour, insisting that Santa Anna's prosthetic leg should never be returned to Mexico. Later, he and Dale make off with the prosthesis.
Cotton believes the U.S. government will grant him his driver's license in exchange for the leg. But when police arrive at Dale's house, they drag Cotton away and place him in the psychiatric ward of a veteran's hospital. A doctor informs Hank that if his father doesn't remain at the facility, he will require round-the-clock supervision. Unwilling to allow his father to rot away, Hank comes up with a plan. He brings Didi to the V.A. hospital and the couple fall in love all over again. Didi drives Cotton back home. During the ceremony where the leg was to be relinquished to Mexico, Captain Barissimo del Fino, who similarly has lost one of his legs, seemingly wears Santa Anna's prosthesis, only for it to fall apart almost as soon as he stands up while using it. Cotton stops by the Department of Motor Vehicles office in Mexico and trades the genuine leg for a driver's license.
Characters
John Redcorn (indirectly mentioned)
Unnamed Woman (cameo)
Barissimo del Fino
Stinger Quote
"That's a good one, baby cakes!" - Cotton
Trivia
During the credits of the episode, it is revealed that the subplot involving General Santa Anna's leg is actually true and it is still being held in an Illinois museum. What was not mentioned was that the Texas legislature passed a resolution in 1942 requiring the leg to be returned to Mexico should it ever make its way into Texas.[1] This may be the reason why it was required in the episode to be returned to Mexico when it reached Texas. As of this date, the U.S. National Guard, a federal military body which has claimed ownership of the wooden leg currently within the confines of a military museum in Decatur, Illinois, has not complied with the Texas state resolution.
This was first time that Cotton's knack for slapping women in the rear end is shown to land him into police custody. In reality, this habit of Cotton's does in fact constitute as a sexual battery charge under subsection §22.01(a)(3) of the Texas Penal Code[2], though somehow, he was not shown to be arrested before this, even when he did this once to Luanne or the numerous times he has done this to a local red-haired waitress. This may be because no other women had the directly arrest Cotton.
The music heard in this episode when Cotton and Didi first met and then later when they fall in love again is ''Don't Sit Under the Apple Tree'' by the Andrews Sisters. The song is a World War II-era song about love, as well as devotion to one's dating partner and also devotion to one's spouse. Cotton has also never hid his fondness for the Andrew Sisters.
Dale wears a Mack truck hat for most of the series. When Dale and Cotton are looking in the closet during this episode, the top shelf is filled with several similar hats.
Cotton tells Hank that Bobby and he are going to rent an RV and drive to all 50 states in 50 days. However, it is not possible to drive to Hawaii.
Goofs
Cotton comes to Arlen to go to the 'Arlen DMV' to renew his driver's license. In Texas, however, drivers' licenses are issued by the DPS (Department of Public Safety), not the DMV.
The title of the episode is a reference to The Naked Gun movie The Final Insult.
↑ Wagenen, Michael Scott. Remembering the Forgotten War: The Enduring Legacies of the U.S.-Mexican War. Amherst, University of Massachusetts Press 2012, pp. 157–58