We're Getting Mutants in the MCU - The Loop
Play Sound
The Father, the Son, and J.C. is the one hundred-eighth episode of King of the Hill. It was first aired on December 16, 2001. The episode was written by Etan Cohen, and directed by Tricia Garcia. David Herman plays former president Jimmy Carter.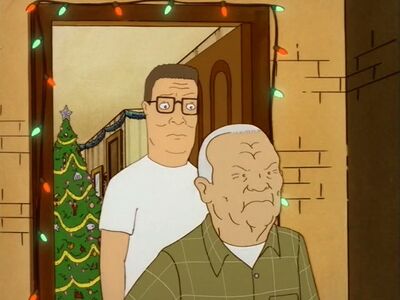 Synopsis
While Hank is building a Habitat for Humanity house for Buck Strickland, Buck promotes him to manager of Strickland Propane. In the excitement of the moment, Hank emotes and declares, "I love you" to Mr. Strickland, which also costs him his promotion, As he was willing to tell Mr. Strickland "I love you," Cotton is angry with Hank. He repeatedly reprimands Hank for his supposedly overly soft manner. Peggy's attempts to bring father and sons together only throws gasoline onto the fire. They get into an altercation, which is soon solved by Jimmy Carter. Hank and Cotton end up bonding over their dislike for Jimmy Carter.
Trivia
Jimmy Carter is mistaken by Bobby for Jesus Christ in this episode. This is in part due to his overalls having the same initials (J.C.), being a carpenter, and being called upon to resolve disputes. In real life, Carter has long been open about his status as a practicing Christian. Additionally the episode is set during Christmas.
Goofs
During the scene when Hank is uninvited from Cotton's party, Peggy is wearing a collared shirt. The handle of the bag she is holding is in front of the area above her collar which should be the color of her skin; however, underneath the handle, it is instead colored like her shirt.