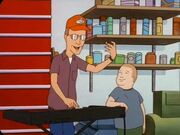 The Dale Gribble Bluegrass Experience is a bluegrass band started by Hank Hill in the episode The Bluegrass is Always Greener. The band includes Hank Hill, Dale Gribble, Boomhauer, and Bill Dauterive. It was created in order to win a bluegrass musical fesitval in Branson, Missouri.
History
The band was created when Hank heard Connie playing bluegrass type fiddling on her violin. Dale, Bill, and Boomhauer also joined in. The group went into Hank's garage to discuss. Hank went to grab his guitar, Dale went and got his keyboard (which he used for the stringed bass), Bill got a washboard, and Boomhauer either wanted to play the accordion or the banjo, but settled on the banjo. Connie had her violin. The group, with instruments, started playing "Blue Moon of Kentucky." They liked it so much that they decided to enter the Branson Bluegrass Fesitival in Branson, Missouri. Dale named them "The Dale Gribble Bluegrass Experience." But Connie was supposed to go to an orchestra summer camp. She decided to sneak off with the guys to Branson.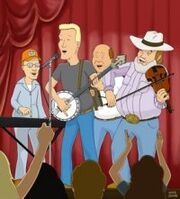 Bluegrass Fesitval
When the band get to Branson, Hanks continued pressure on Connie to excel finally makes her snap. Connie runs off leaving The Bluegrass Experience without a fiddle player. Dale convinces Charlie Daniels that Connies last wish was for him to play with the band, subsequently he takes her place on stage. The band lose out to another bluegrass band in the end, but Connie reconciles with Hank and her father.
Members
Here is a list of the members of The Dale Gribble Bluegrass Experience and the instuments they play:
Short Term Members