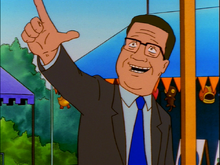 Ted T. Gannaway is a presidential fringe candidate who appears only in The Perils of Polling.
Hank, Peggy, Bobby and Luanne go to the Heimlich County Fair. When they arrive, Bobby asks Peggy for five tickets for fair food, explaining that he doesn't want them guessing his weight on an empty stomach. As Bobby runs off to get some food, Luanne states that she's also hungry, and Hank tells her that she should be hungry for democracy. Luanne, confused and unaffected by Hank's statement, explains that she just wants "corn on a stick." and Hank, in response, enthusiastically explains to Luanne, that in a few years the corn'll be gone, but that the thrill of voting lasts.
Peggy notices Ted. T Gannaway at a booth, and directs Hank's attention toward him. Ted. T. Gananway claims that the polls and media have been ignoring his campaign, but that they're going to have a "little surprise" come election day, when "long-shot candidate Ted T. Gannaway moves out of his parents house and into the White House."
Hank refers to Ted. T Gannaway as confused, and Peggy, in response, says that she admires his dedication. As Hank and Peggy begin to walk away from the area, much to their dismay, they're approached by Ted. T Gannaway. Peggy explains to Hank, that because he made eye contract, it's his job to talk to him, and Peggy then leaves the area.
Ted T. Gannaway introduces himself to Hank, and explains that he's running for president. Hank, uninterested, politely explains that he and his wife Peggy are committed to George W. Bush, and that even if they weren't, that there's four or five candidates ahead of him. Hank then wishes him luck with the campaign. Ted T. Gannaway, in response to Hank, says that Governor George W. Bush and Vice President Al Gore, want him to focus on Ted. T. Gannaway's "hit-and-run conviction." and not on his "sixteen-point plan for America."
Community content is available under
CC-BY-SA
unless otherwise noted.