Jurassic World: Dominion Dominates Fandom Wikis - The Loop
Play Sound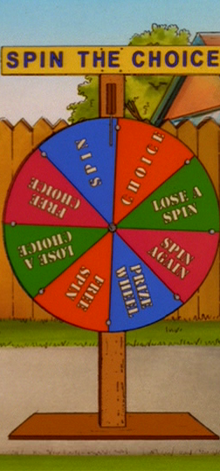 Preparations
Based on the bits and pieces of the rules from the episode, this is a guide to how the game it
self is to be played. Please feel free to update the page with your input if you feel this is invalid.
In the episode, there are two game elements that are shown in the backyard during the Thanksgiving (Thanks-taking) party. They are:
Spin the Choice Clicker Wheel
A circle divided into pie-shaped sections, anchored from the center with an axle. An indicator arrow at the top of the circle clicks on the pegs placed between pie slices. When the wheel stops spinning, it will show what the outcome of the spin was. The ouctomes for this wheel are (arranged in clockwise order):
SPIN
CHOICE
LOSE A SPIN
SPIN AGAIN
PRIZE WHEEL
FREE SPIN
LOSE A CHOICE
FREE CHOICE
Prize Wheel
This appears to be a cardboard box from a refrigerator. On a blank side, Peggy has used a thick marker or paint to draw a circle divided into pie slices. The pie slices are (arranged in clockwise order):
MICROWAVE OVEN
FREE SPIN
WINNEBAGO
FREE CHOICE
WASHER DRYER
MAZDA
POINT BLANK
MERCADEASE
Gameplay
At the beginning of a player's turn, the player can decide to "Choose to Spin" or "Choose to Choose".
A cowbell is rang that indicates when the prize wheel gets spun.
To spin the prize wheel, Peggy points at the board and you "spin her arm", which will indicate which prize you win.