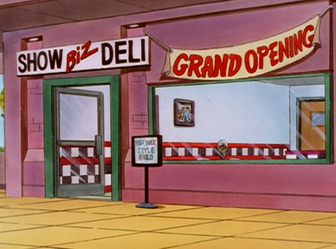 The Show Biz Deli is a restaurant at the Arlen Mall that appears in the season 3 episode Love Hurts and So Does Art.
The deli advertises itself as a New York-style deli and is known for serving unique and often unhealthy dishes. The owner, Karl has frugal business practices, ordering drums of chopped chicken livers by catalog and even refusing to serve hot dishes.
The restaurant was changed to Show Biz Sushi in the season 7 episode Bad Girls, Bad Girls, Whatcha Gonna Do, possibly due to lack of business as no customers (besides Bobby and his parents) were ever seen in the deli.