Sheila Refkin
Name
Sheila Refkin
Gender
Female
Hair
Brown
Age
Deceased
Job
Exterminator
Relatives
First appearance
"Night and Deity"
Voiced by
Janeane Garofalo

Sheila Refkin is a female exterminator. She is voiced by Janeane Garofalo.
History
She first appeared in Night and Deity, where she arrives in Rainey Street to exterminate pigeons after being called by Hank. She is skilled in her job, being known as the Pigeon God of Heimlich County. When Sheila arrives in the neighborhood, Dale reacts with awe, as she's something of a legend in the pest control world. It doesn't take long for Nancy to notice the new girl in town and her affect on Dale. Nancy's fears were justified, as Sheila held an attraction to the oblivious Dale and ignored attempts of seduction by John Redcorn. Later on, Dale starts to notice her acts when on the roof of a motel, where she tries to be more romantic with him. Once Dale realizes what's happening, he pulls away from Sheila and holds up his wedding ring. He reminds her that he's a married man, and refuses to do anything behind Nancy's back even when admitting how hot Sheila is. With that, Sheila exits.
Episode Appearance
Season 7
Trivia
Its ironic Dale didn't sleep with her, since his wife cheated on him.
She appears to be the second woman to have a genuine interest in Dale.
Gallery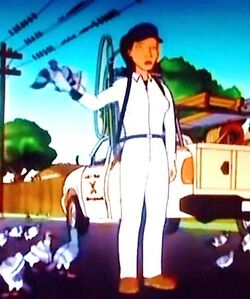 Community content is available under
CC-BY-SA
unless otherwise noted.