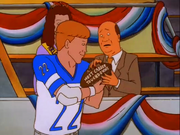 Ricky Suggs is a high school football star and senior at Arlen High School (Class of 2001). He was featured in Episode 63 "Bills are Made to be Broken", where he nearly sets the Arlen High School football scoring record before being injured, damaging his ACL. After a couple of days, he returns to the gridiron, his leg in a brace. He is sent onto the field by the coach, where the opposing team allows him to score. Although Bill is seemingly okay with Ricky Suggs so unfairly taking the scoring record, Hank is appalled. Hank arranges Bill's return to the football team because of his "red shirt eligibility" because Bill never finished high school (he dropped out because he was failing trigonometry and the country needed barbers). Bill attempts to train and is too out of shape to continue. Upon his glorious return, Bill does a drive to tie Ricky's record. He is extremely injured in the drive, injuring his arm and kneecap. Hank remarks that he "has a chance to win back the record", but Bill says he is happy to keep the record with Ricky because he deserves it and because he "can't get back up". At the end, Ricky protests the play, and Bill goes to rehab.
Community content is available under
CC-BY-SA
unless otherwise noted.