Ted Popacito, or better known as Pops, was Bill Dautrive's elderly neighbor. He infrequently appeared, his first appearance being in Season 2 episode The Man Who Shot Cane Skretteburg. He suffered a fatal heart attack in the Season 4 Movin' On Up. Pops was voiced by veteran voice actor Jim Cummings, who also voiced Topsy.
Character
As a very minor character, nearly nothing is known about Pops. Cotton and Topsy seem to know Pops, suggesting he is a World War II veteran. In his first appearance, he was acting like a stereotypical cranky old man, remarking to his adult neighbors about how lazy today's youth is (substituting a leaf blower for a rake, specifically). He also had a pet dauchshund.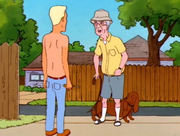 He revealed that his unruly neighbor,
Cane Skretteburg
, had been harassing him for weeks, prompting the men to prank Cane by setting a bag of dog poop ablaze on his front doorstep.
In "Movin' on Up," Pops suffers a heart attack while mowing the lawn, crashing his ride-on mower into a fence. Hank and his friends planned to lease Pops' house as their clubhouse and are surprised to learn that he had a swimming pool. Luanne Platter ended up leasing the house with a group of obnoxious roommates.
Community content is available under
CC-BY-SA
unless otherwise noted.