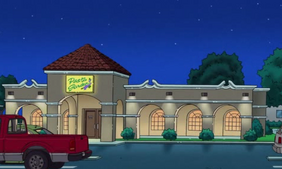 Pasta Garden is an Italian restaurant located in Arlen. 
It is a parody of the Italian chain restaurant Olive Garden as the restaurant's logo and interior are similar, and they also give complementary breadsticks and salad, a signature of Olive Garden. After patrons are finished their meal, the servers go around with a cart showing all of the desserts asking if they want coffee and dessert. It was shown in the episode Master of Puppets where Hank and Peggy go on a date night.
Appearances
Master of Puppets
In the episode Master of Puppets, after Dale mentions that he'll postpone date night with Nancy, Hank mentions that he hasn't taken Peggy to a date night for a while, and mentions that he has a coupon to the restaurant from the Sunday newspaper offering free iced tea with a purchase of an appetizer.
Hank takes Peggy to the restaurant after leaving game night with Bobby , and Bobby going with Joseph and his football friends to the Arlen Mall, which Hank and Peggy promise to pick up Bobby at 9. Hank and Peggy get breadsticks and salad, which Hank tells the server they didn't order that, and the server tells them they are complementary, which Peggy thinks Hank called ahead and set this up.
After their meal, Hank is impressed at what they put inside ravioli, and then the servers came to them with a cart showing all of the desserts asking them if they wanted desserts and coffee. Peggy gets coffee while Hank picks out the lava cake dessert which takes 20 minutes to prepare. With Hank and Peggy promising to pick up Bobby at 9, they forget to watch the time, which Bobby then calls Hank from a pay phone by the Get In Get Out at 10:30, and when Peggy finds out that he is at the Get In Get Out, Peggy runs out of the restaurant using the emergency exit.
In the end of the episode when the Hill's go to the Cane Skretteburg concert at the Arlen Fun Center, after Bobby confesses to them that he just felt guilty so he can receive gifts and special treatment, and that he wants more alone time, Hank and Peggy go have dinner again at the restaurant while Bobby is at the Cane Skretteburg concert.