Jurassic World: Dominion Dominates Fandom Wikis - The Loop
Play Sound
Of Mice and Little Green Men is the one hundred-eighteenth episode of King of the Hill. It was first aired on April 7, 2002. The episode was written by Sivert Glarum and Michael Jamin, and directed by Shaun Cashman.
Synopsis
When Hank and Dale find they have more in common with each other's sons than their own, Dale helping Bobby with his acting, and Hank helping Joseph with lacrosse. Dale comes to the conclusion that Joseph is actually the offspring of an alien. Dale tells Joseph of his "alien heritage," Joseph refuses to believe it, but has second thoughts after conversing with his mother. Meanwhile, Bobby feels that nobody else takes his performing in an amateur production of John Steinbeck's "Of Mice and Men" seriously
The two boys run off to Marfa, Texas, the site of paranormal "Marfa lights" variously ascribed to ghosts or UFOs. After Peggy and Hank end up stepping into the roles of Lennie and George in "Of Mice and Men," Hank and Dale head to Marfa. Hank convinces Dale that, even if a space alien was Joseph's biological father, he's been Joseph's dad in every other respect.
Characters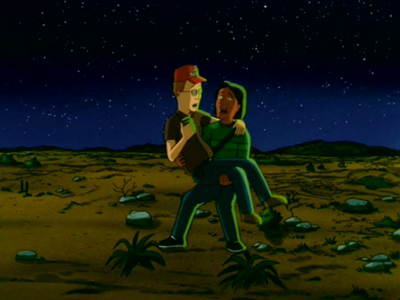 Stinger Quote
Bobby: "Hey Dad, what's in the jar?"
Hank: "Don't drink it!"
Trivia
The title of this episode is a play on Of Mice and Men, the novella written by John Steinbeck.
This episode's stinger quote is a rare example of a line unused anywhere else in the episode.
In this episode, Joseph is playing Lacrosse and is a natural at it. Lacrosse is a game invented by Native Americans. This is a nod to his biological ancestry by John Redcorn.
This is the first episode where we see how similar Dale and Joseph are in personality. Up until this point, Joseph acted just like any other normal American white teenager (much to John Redcorn's dismay).
Dale's comment about making a good pet for the aliens is a reference to the song "Pets" by Porno for Pyros.
The Marfa lights are real phenomena that have been observed in Marfa, Texas for decades. Dale says that the lights have been dismissed as "swamp gas, experimental aircraft, or weather balloons", which are all UFO-explanation clichés, when in fact skeptics versed in the subject actually claim the Marfa lights are car headlights on a distant highway, distorted by local atmospheric conditions. Because of the frequency of the appearance of the lights (nearly every night), either skeptics are correct or Marfa, Texas is adjacent to a very busy UFO highway.
The previous Bugabago can be seen during the flashback scene when Dale goes to Marfa. This van is light purple with "Dale's Dead Bug" written in pink in Streamster font.