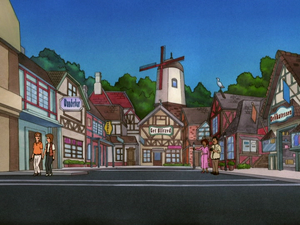 New Hoffenscheim, on I-45 near Arlen, is a re-created German village famous for its windmills, gingerbread houses, and garden gnomes. It is only seen in the episode "Yard, She Blows!"
Location
New Hoffenscheim is located on Interstate 45, somewhere between Dallas and Galveston. Technically, the city could be located in any of the counties that I-45 runs through, which include: Galveston county, Harris county, Montgomery county, Walker county, Madison county, Leon county, Freestone county, Navarro county, Ellis county, and Dallas county; it can also possibly include Heimlich and Durndle counties.
Features
As you enter New Hoffenscheim, the most promenint feature you will first see are the numerous windmills..., NEXT, are the numerous shops, many of which sell the renowned New Hoffenscheim Gingerbread Houses; then there are the specialty shops which deal with renowned German artifacts & customs, one shop of which specializes in antique garden gnomes. And thus, we basically end our tour of the fascinating & quaint town of New Hoffenscheim.
Inspirations
New Hoffenscheim resembles several real-life towns in Texas, including Fredericksburg and New Braunfels, both of which were settled by German immigrants and retain a major German influence on their culture and architecture. Both towns however are in central Texas (in Gillespie and Comal Counties, respectively) placing them a significant distance from Arlen's implied location in the Dallas-Fort Worth metro area.
Community content is available under
CC-BY-SA
unless otherwise noted.