We're Getting Mutants in the MCU - The Loop
Play Sound
Lady and Gentrification is the two hundred-twenty-seventh episode of King of the Hill. It was first aired on March 9, 2008. The episode was written by Judah Miller and Murray Miller, and directed by Anthony Chun.
Synopsis
Enrique encourages his daughter, Inez, to ask Hank to speak at her quinceañera and Hank reluctantly agrees to her request. He starts spending time with Inez so he has something to write about in his speech. Hank begs Peggy to accompany him on his first visit, so Peggy meets Hank at Enrique's with a real-estate client in the car waiting, a 30-year-old hipster who hasn't been satisfied with any of the homes he's been shown because they've all been in white neighborhoods. The hipster becomes enchanted with Enrique's Mexican neighborhood, and Peggy closes a deal with him. But when a slew of hipsters follow and buy up homes in the neighborhood, the fruit stands and Goodwill clothing stores are soon replaced by trendy salons and art galleries. At the quinceañera, Enrique publicly blames Peggy for the gentrification of his neighborhood and explains that the rent on his home has skyrocketed such that they will have to move. Feeling horrible, Peggy tricks the hipsters into believing that the simpler, down-home white folks of Arlen (like Dale and Boomhauer) are moving into the neighborhood and the hipsters soon move out. Enrique's neighborhood is restored to its former glory and Enrique is able to buy his home.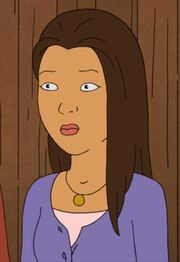 Characters
Stinger Quote
Enrique: "They put salmon in the fish tacos, Hank!"
Trivia
The title of this episode is a play on the phrase "Lady and Gentleman."
When Peggy says in her broken Spanish "Sus osos son como placas," meaning "Your bears are like plates," her actual intention was likely the sentence "Sus ojos son como platas," meaning "Your eyes are like silver."