The
King of the Hill
video game was a game that was released on November 13, 2000 for PC and Macintosh.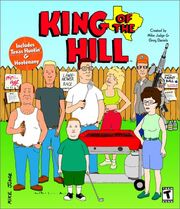 Game Modes
In the beginning of Hootenany, you are welcomed to the neighborhood with a list of things in the mail. Upon taking out the trash you see Hank, Dale, Bill, and Boomhauer in the alley, and the simulation begins. There are several minigames that you can play. They include Mini-Golf, Lawnmower Race, Paintball, Scavenger Hunt, and Tic-Tac-Toss. You can also explore a limited part of the town.
In the beginning of Texas Huntin', you start out by getting a hunting license. You meet the guys, and they invite you to their hunt.
Reception
Ratings were typically poor, with remarks such as the game being boring and having nothing to do. A couple minigames were available for free on the Internet, giving less reason to buy the game.
Downloads
Community content is available under
CC-BY-SA
unless otherwise noted.