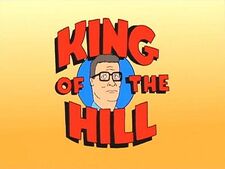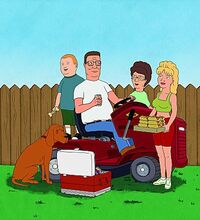 King of the Hill is an American animated series created by Mike Judge and Greg Daniels, that ran from January 12, 1997 to September 20, 2009 on FOX and Syndication only on May 3 to 6, 2010 which only leave it to a finale for FOX part separately from since FOX ended in 2009. It centers on the Hills, a small-town Methodist family in Arlen, Texas. It attempts to retain a realistic approach, seeking humor in the conventional or mundane aspects of everyday life.
Judge and Daniels conceived the series after a run with Judge's Beavis and Butt-head on MTV, and the series debuted on the Fox Network on January 12, 1997, becoming a hit early on. The series' popularity has also led to syndication around the world, formerly running every night on Adult Swim from January 1, 2009 to July 23, 2018. On July 24, 2018, reruns airs on Comedy Central. The show has risen to become one of Fox's longest-running series, and is currently the third longest-running American animated series on Fox behind The Simpsons and Family Guy. In 2007, it was named by Time magazine as one of the top 100 greatest television shows of all time. The title theme was written and performed by The Refreshments. King of the Hill has won two Emmy Awards and has been nominated for seven since its inception.
Another animated series, Bless the Harts, takes place in the King of the Hill universe, and features Mega-Lo-Marts in the script. It was also created for Fox. Despite this, Mike Judge is not involved in the series. However, story editors Christy Stratton and Emily Spivey for King of the Hill are involved in the show. The show was renewed for a second season on October 18, 2019.
History
Conception
In early 1995, after the successful run of Beavis and Butt-head on MTV, Mike Judge co-created King of the Hill with former Simpsons writer Greg Daniels. Judge was a former resident of Garland, a suburb of Dallas, Texas considered the basis for the setting of the series, the fictional Arlen. Mike Judge conceived the idea for the show, drew the main characters, and wrote a pilot script.
Fox teamed the cartoonist with an experienced prime-time TV writer. Greg Daniels rewrote the pilot script and created several important characters that did not appear in Judge's first draft (including Luanne and Cotton), as well as some characterization ideas (e.g., making Dale Gribble a conspiracy theorist).
Initial success
After its debut, the series became a huge success for Fox and was named one of the best television series by various publications, including Entertainment Weekly, Time and TV Guide. For the 1997-1998 season, the series became one of Fox's highest rated programs and nearly outperformed The Simpsons in ratings. During the fifth and sixth seasons, Mike Judge and Greg Daniels became less involved with the show. They eventually focused on the show again, though Greg Daniels steadily became more involved with other projects.
Facing cancellation
The series' tenth season was largely composed of episodes that did not air the previous season due to frequent sporting event preemptions. During the tenth season, in 2005, the show was scheduled to be canceled; however, it managed to attract high ratings and was renewed. Fox renewed the series for seasons eleven and twelve, making it the second longest-running animated television series after The Simpsons.
The thirteenth season episode "Lucky See, Monkey Do" became the first episode of the series to be produced in widescreen high-definition when it aired on February 8, 2009 and replaced within Standard Mode only used on "Pilot" and ended "Straight as an Arrow" on January 12, 1997 to November 30, 2008.
Settings, characters, and themes
Setting
King of the Hill is set in the fictional town of Arlen, Texas. In a 1995 interview prior to the show's debut, Judge described the setting as "a town like Humble." In a more recent interview, Judge has cited Richardson, Texas, a Dallas suburb, as the specific inspiration for Arlen. Despite the fictitious locale, the show strives to portray the region accurately, going so far as to have annual research trips to Texas for the writing staff. Time magazine praised the authentic portrayal as the "most acutely observed, realistic sitcom about regional American life bar none".
Arlen includes settings such as Rainey Street, where the Hills reside, and Strickland Propane, the business where Hank works. Also included are parodies of well-known businesses, such as Mega-Lo Mart (a parody of big-box stores), Luly's (a parody of Luby's), and Bazooms (a parody of Hooters). Most of the children in the show attend Tom Landry Middle School (named after the former Dallas Cowboys coach). Early in the series, the school is referred to as being in the Heimlich County School District (according to markings on the school buses), though in later seasons this is changed to Arlen Independent School District. The school's mascot is a longhorn steer (named after the University of Texas Longhorns). The local country club is the Nine Rivers Country Club, though this club exclusively admits Asian-Americans.
Characters
King of the Hill depicts an average middle-class family and their lives in a typical American town. It documents the Hills' day-to-day-lives in the small Texas town of Arlen, exploring modern themes such as parent-child relationships, friendship, loyalty, and justice. As an animated sitcom, however, King of the Hill's scope is generally larger than that of a regular sitcom.
| | |
| --- | --- |
| Hank Hill | The family patriarch is Hank Hill, assistant manager of Strickland Propane, and salesman of "propane and propane accessories," who is obsessed with his lawn, propane, and the Dallas Cowboys. He is uncomfortable with intimacy and sexuality but has a healthy relationship with his wife, as well as the rest of his family. Hank's trademark sigh in times of discomfort or exasperation, his scream of "Bwah!" when startled, also when is disgusted he whispers "ugha" the phrase "I tell you what!" are running gags on the series; additionally, when someone angers him, he tends to respond with, "I'm gonna kick your ass!", though, he rarely resorts to this. In contrast with his emotional distance from members of his family, he dotes unashamedly on his aging Bloodhound, Ladybird. |
| Peggy Hill | Hank is married to Peggy Hill, a substitute Spanish teacher who has a poor grasp of the language (referring to it phonetically as "es-puh-nole"). Peggy is also a freelance newspaper columnist, real estate agent, notary public, and Boggle champion. She often displays her naïveté and arrogance with an inflated sense of her intelligence and appearance. She considers herself knowledgeable, clever, and very physically attractive. More often than not, Peggy's ego will preempt better judgement, leading to actions that, while initially "helping" her, ultimately lead to a path of agonizing realization of what she has done. |
| Bobby Hill | The two have a son, Bobby Hill, an overweight 13-year-old, who wants to be a famous prop comic when he is older. Although he is not particularly attractive or intelligent, Bobby has an excellent sense of self-esteem; he is not ashamed of his body or his often sub-par performance in sports or other activities. Bobby lacks his father's athletic prowess and dislikes most sports, but has participated- often in a peripheral way- in wrestling, baseball, and track at Tom Landry Middle School. He has also attempted to play football and soccer. He has an offbeat sense of humor that clashes with Hank's more collected and conservative manner. Such sentiments are fueled by Bobby's liking of activities more often viewed as traditionally feminine, such as cooking, high fashion, and dolls. Hank's discomfort with Bobby's proclivities is a regular narrative element in the series, and is manifested with remarks like "That boy ain't right." |
| Luanne Platter | Luanne Platter is Peggy's niece. She came to live with the Hills after her mother, Leanne, was sent to prison for stabbing Luanne's father (Peggy's brother) with a fork. Thus, her full name is Luanne Leanne Platter, as heard on the episode "Edu-macating Lucky". |
| Dale Gribble | Dale Gribble is the next door neighbor of Hank and Peggy Hill. He is an exterminator, bounty hunter, chain-smoker, gun fanatic, and paranoid believer of almost all conspiracy theories. Mike Judge and Greg Daniels named him in tribute to Dan "Gribble" Costello, a close friend of Judge. The character himself is loosely based on William S. Burroughs and Hunter S. Thompson, both of whom were avid gun collectors and also wrote pieces on conspiracy theory. Some of his few Dale-isms are "S'Go," which he says whenever he wants a person to go somewhere with him, and "sh-sh-shaa" to mark a point of accomplishment (such as releasing an eagle to chase away some pigeons - "sh-shaaa!" - only to have the eagle turn on him). |
| Bill Dauterive | Bill was Hank's best friend in high school and now lives across the street from him. In his younger years, Bill was extremely fit, athletic, competent and with a full head of hair. Now bald and pot-bellied, he works as a barber for the U.S. Army and continues to pine for his wife, Lenore, who left him. He remains lovelorn and frequently sad, and is attracted to Peggy. Whenever he is feeling down, he lets out a pitiful squeal before launching into a harmful binge. Bill is also a fluent French-speaking native of Louisiana and a family member of a wealthy chili pepper plantation. |
| Jeff Boomhauer | Boomhauer (who is always addressed by his last name) was high school friends with Hank, Dale and Bill. He has a deep, all-over suntan and speaks in a barely understandable mumble, though when he sings bluegrass songs, his voice is clear. He is a committed bachelor sometimes depicted as promiscuous with his various girlfriends. According to the commentary on the Pilot episode dvd, Boomhauer's unique speaking style was based on a voicemail left on Mike Judge's answering machine. |
The series also featured numerous celebrity guests during its run including, Troy Aikman, Heather Locklear, Sally Field, Johnny Depp, Janeane Garofalo, Jason Bateman and Brad Pitt. In the later seasons, Tom Petty joined the cast as Lucky, Luanne's boyfriend/husband.
Episodes
Main article Episode outlines
Season

# of
Episodes
Original airdate
1
12
1997
2
23
1997-1998
3
25
1998-1999
4
24
1999-2000
5
20
2000-2001
6
22
2001-2002
7
23
2002-2003
8
22
2003-2004
9
15
2004-2005
10
15
2005-2006
11
12
2007
12
22
2007-2008
13
20
2008-2009
Fox initially ordered 13 episodes with DABExx, but decided to keep the show in production for four additional episodes (DABE14-DABE17) bringing the actual amount of remaining unaired episodes to four, however the network nevertheless has yet to license those extra episodes. Fox later announced that they will not air the episodes in primetime opting instead for syndication with the possibility that the episodes may air first on Adult Swim.
Awards
1998 BMI TV Music Award by Roger Neill, John O'Connor and Lance Rubin.
1999 Emmy for Outstanding Animation lasting under an hour for episode "And They Call It Bobby Love".
2001 Annie Outstanding Individual Achievement for Voice Acting by a Female Performer in an Animated Television Production by Kathy Najimy.
2002 Emmy for Outstanding Voice Over by Pamela Adlon for Bobby Hill.
2003 Environmental Media Award in television episodic-comedy category for "I Never Promised You an Organic Garden".
2003 Annie Writing in an Animated Television Production by Norm Hiscock for "Bobby Goes Nuts".
2005 Annie Voice Acting in an Animated Television Production by Brittany Murphy.
2005 Annie Writing in an Animated Television Production by Etan Cohen.
Community content is available under
CC-BY-SA
unless otherwise noted.