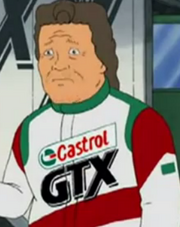 John Force appeared in the episode Dale Be Not Proud. He is a well accomplished race car driver that Hank, Bill, Dale, and Boomhauer all idolize.
John was told by his doctors that he needed a kidney, and Dale was a perfect blood match. However before the surgery, the doctors noticed he only had a blockage in his renal artery and actually didn't need a new kidney.
He is not seen again in the rest of the series.