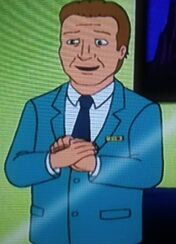 Jim (Death Buys a Timeshare)
is a one time character who appears once in the episode 
Death Buys a Timeshare
. He is voiced by Stephen Root.
Description
Jim is known to be the best sale representative at the O'Kelly Timeshare in Mexico. When he was asked by his boss Rich to talk to Hank, He undergo his alias as a pitiful salesman who is afraid of his wife. However it seems that his tactic isn't working as Hank resist his alias but before he could talk to Hank even more, Hank rushed to stop Bill from buying a timeshare from a attractive representative.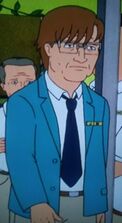 Later he appeared again when Hank aggred to buy a week of timeshare at Mexico in order for Cotton to get on the yatch to meet O'Kelly, Where he dropped his alias and return to his normal self.