It Ain't Over 'Til the Fat Neighbor Sings is the one hundred-eighty-sixth episode of King of the Hill. It was first aired on May 15, 2005. The episode was written by Etan Cohen, and directed by Julius Wu. Chris Barrie guest stars.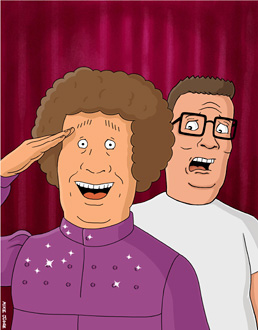 Synopsis
Bill joins an all-male chorus called, The Harmonaholics, after Hank takes him to Arlen First Methodist to lift him out of his depression. He starts putting his new chorus activity before everything, including his job. After he uses up all of his sick and vacation days--and thinking the Army won't notice if he's gone-- he goes to perform with the Harmonaholics. When his superior officer says that Bill is going to be AWOL, Hank and the guys go after him, even knowing that they will miss the game they had tickets to. When Hank allows Dale--whom he would not allow to insult Bill all episode--yell at him all out, it still does not convince him. Hank then tells him how bad his life will be if he ends up in jail and how the Army has noticed his absence. When Hank tells him of how they missed the game to come get him, Bill rushes to the base, making it just in time.
Meanwhile, Peggy and Bobby get enthralled with a game of Pong.
Stinger Quote
The Harmonaholics make multiple sound effects and funny noises.
Trivia
The episode's title is a pun on the phrase "It ain't over till the fat lady sings."
Rev. Stroup's attempt to come on to Bill as he falls under the spell of the Harmonaholics foreshadows their eventual relationship in The Passion of the Dauterive in Season 11.
In the Season 4 episode Hank's Bad Hair Day, Bill continues his barber duties by being disguised as a pinball repairman in an empty building. However in this episode, he's back in the barber building and is even shown surrounded by several other barbers.
When Bill is depressed, Hank states that the last time Bill was so gloomy was when Hank spent Christmas pulling his head out of the oven. This is referencing the season 3 episode Pretty, Pretty Dresses where Hank is seen pulling Bill's head out of the oven.
This is the second time PBS was mentioned in the series, the first time being "The Arrowhead", although one of PBS's studios appeared in this episode.
Gallery