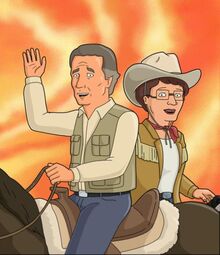 Henry Winkler is the main antagonist in the episode "A Rover Runs Through It." When Peggy takes Hank and Bobby to visit her parents on the Platter Ranch, she sees the town has become full of pretentious Hollywood type people. Every year in the spring the cattle make an annual trip up the mountain trail to breed, and most of the trail is on land that was once owned by Grammersdorf family. Peggy's mother had tried to arrange a marriage with Sven Grammersdorf, their son, in an attempt to merge the property and have full access to the trail. Peggy declined, preferring to marry her true love, Hank Hill, causing anger between her and her mother for ruining that plan.
Some time after Peggy married Hank and moved to Texas, the Grammersdorfs moved away and sold their property to Henry Winkler. Henry Winkler refused to allow any cattle access to the trail on the basis that they will pollute the river where he fishes. Hank attempts to reason with Henry Winkler, arguing that cattle have traversed rivers for centuries without harming fish, but Henry refuses to grant access. One day, when Henry and his butler are food shopping, do they see a cattle drive in progress. Peggy cites a local law written in the 19th Century which still stands, stating that if the cattle trail is blocked, Main Street can serve as an alternate route. This disruption causes Henry Winkler to change his mind and grant the cattle access to his land in order to pass through to the mountains. He is last seen at the river fishing with Hank.
Trivia
He is the star from Happy Days and the executive producer of MacGyver in the original (1985–92) and reboot (2016–present).