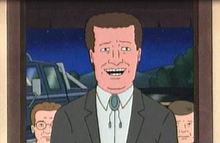 Henry Mankiller
Name
Henry Mankiller
Gender
Male
Hair
Brown
Age
Job
Relatives
First appearance
Redcorn Gambles with his Future
Voiced by
Henry Mankiller is an employee of the the Tribal Gaming Corporation. He arrives unexpectedly at John Redcorn's trailer while Big Mountain Fudgecake is rehearsing for their performance when the casino opens. They start out by playing "Gotta Get Money" for Henry and his lawyers to which they respond "with a sound like that, you're not going to need gaming for long".
Henry refers to himself as being in the dream building business and can save John the hassle of dealing with the "white mans loan officers" by funding everything through their tribal development division. In the episode Redcorn Gambles with his Future, he claims to be 1/64 creek (on his mothers side).
Community content is available under
CC-BY-SA
unless otherwise noted.