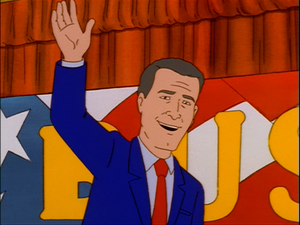 George W. Bush was the 43rd President of the United States from 2001 to 2009. He was also the 46th Governor of Texas from 1995 to 2000. He appeared only in The Perils of Polling.
After Bobby saves Mitch from drowning at the Heimlich County Fair, he's confronted by Charlotte Humes, George W. Bush's campaign manager, who begins taking pictures of Bobby with Mitch, much to the embarrassment of Hank. Charlotte Humes invites Hank and his family as guests to George W. Bush's Get Out The Vote rally, explaining that Bobby's act of bravery is just the kind of heroism that Governor Bush loves to attach himself to.
Later, Hank, Peggy, Bobby and Luanne are at George W. Bush's Get Out The Vote rally, where they're confronted By George W. Bush. Governor Bush greets Bobby, referring to him as Heimlich County's newest hero, and then proceeds to shake Hank's hand. After Governor Bush shakes Hank's hand, Hank, a long-time Bush supporter, becomes horrified, explaining to Peggy that Governor Bush's handshake was limp.