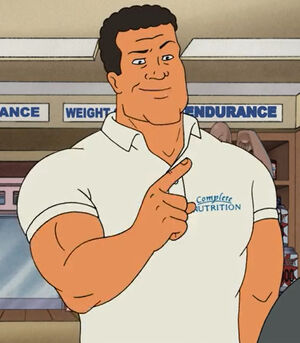 Dirk is a character in King of the Hill. He is the main antagonist of "Bill, Bulk and the Body Buddies," in which he forced Bill to keep training to get more muscle and even turn his back on his old friends.
Bill first meets Dirk at the mall in a supplements store called "Complete Nutrition" where he works as a salesman. Dirk asks Bill what he needs to buy and Bill says he's looking for some vitamins. He then asks Bill where he works out and says that he works out at home in his home gym. Dirk offers to train Bill for free on the condition that he uses his gym to work out because the other gyms won't allow him in because he says that they're just jealous of his fit physique. But in reality it's Dirk's attitude that caused him to be kicked out of every gym in town. He and his buddies, Gorilla and Coach intimidate the others with there buff bodies and tough personalities. Dirk went too far when he shoved a nozzle down Bill's throat and puts in raw eggs in the funnel and has Bill drink raw eggs. Hank, Dale, Boomhauer and Kahn go to Bill's gym to check on him and decide to help Bill after realizing that he was in pain from lifting weights. They ask Dirk to help them with their bodies but Hank says he wants Coach to help them because his muscles are bigger than Dirk's but they get in a argument about who's muscles are bigger. Then Khan points out that Gorrilla's muscles are bigger than theirs put together. The muscled men get into a muscle competition by looking in the mirror. While they're distraced, Hank and the guys carry Bill to the hospital and the guys are still posing in the mirror.
Dirk is voiced by Diedrich Bader.
Appearance
Bill, Bulk and the Body Buddies
Gallery