Doctor Strange in The Multiverse o Madness - The Loop
Play Sound
Debbie Grund was an exceptionally attractive employee of Strickland Propane and one of Buck Strickland's many mistresses. She was a silent character, never having an on-screen speaking role until the episode "Hanky Panky," when she was voiced by actress Reese Witherspoon.
Physical appearance
Debbie is a young adult woman with short blonde hair. Throughout the series, she is seen wearing a Strickland Propane uniform consisting of a light blue dress shirt, blue jeans, and brown shoes.
In the story
Before Season 4
Debbie was a silent employee who mainly sat around Buck Strickland's business. She acted as Buck's secretary on occasion.
Season 4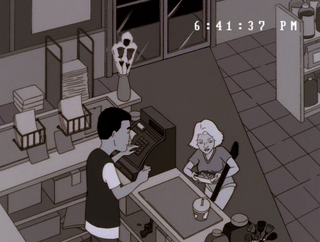 Debbie was a central character in "Hanky Panky." After discovering her husband's affair, Miz Liz kicked Buck out and seized ownership of Strickland Propane. Mrs. Strickland made Hank the ipso facto boss of Strickland as he was the most knowledgeable of propane now that Buck was gone. When Hank told Mrs Strickland that tank wipe is the least favorite job of the Strickland employees, Mrs. Strickland put Debbie on that job to make her the bottom woman on the totem pole.
Feeling rejected, she attempts to seduce Hank by hiding in his truck dressed in only her undergarments, only to be rejected by him as well. After this, she coerces Hank to make a plan for having intercourse under the threat of falsely telling his wife they did have sexual relations, and Hank barely avoids Debbie's plan. She finally snapped when the Stricklands made up, and intended to shoot Buck and Liz (and maybe Hank and Peggy) with a shotgun.
After leaving a nearby convenience store with a warm meal, Debbie walks to Sugarfoot's to hide in the dumpster and wait for Buck and Liz to exit. She juggled the gun and a snack as she tried to hide out in a dumpster, she accidentally set the gun off, resulting in an accidental suicide. As soon as she hears the gunshot, Peggy Hill discovers Debbie's corpse in a dumpster, prompting a tense murder investigation headed by Sheriff Mumford, but the case was ultimately solved by Texas Ranger Lester Payton as accidental suicide instead of murder.
Donna is one of Debbie's successors as Mr. Strickland's mistress. Peggy mentioned her in the episode Ho Yeah!
Trivia
Debby's first words were in the episode "Peggy's Pageant Fever" when Mr. Strickland calls her over the intercom, to tell her to write a check for $2000. She responds "Right away Buck!" in a high nasal voice.[1]
Her first on-screen words were spoken in the episode "Hanky Panky". They were "Mmm-humm, thank you!" after Miz Liz's divorce lawyer complimented her on her beauty.
She was a pitcher for the company softball team—the Strickland Bobtails.[2]
She lived at the Casa Linda apartments with her roommate, Gayle.
It is unknown who voiced her in Season 3.
The following year in season 5, Reese Witherspoon's husband at the time, Ryan Phillipe, appeared in the episode T'was the Nut Before Christmas as Wally.
Episode Appearances
Season 2
Season 3
Season 4
Gallery
References