"Death Picks Cotton" is the 218th episode of King of the Hill. It was first aired on November 11, 2007. The episode was directed by Tony Kluck and written by Judah Miller and Murray Miller.
Synopsis
While at a Japanese restaurant, Cotton suffers a war flashback and ends up getting hospitalized, where Peggy learns that Cotton may not have long to live.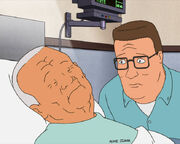 Hank, Peggy, Luanne, and Lucky are planning on going out to Tokyaki's Restaurant when the babysitter for Bobby backs out. At the same time Cotton comes by and offers to watch Bobby. At first they are hesitant, but finally decide to leave. Cotton refuses to eat what Peggy left for dinner and follows them to Tokyaki's. There, he goes on a rampage after having war flashbacks and ends up choking on shrimp and getting burned on a grill. Once going to the hospital the doctor explains that Cotton is allergic to shellfish, has an infection, third degree burns, and many other problems and is sure Cotton will soon pass away. While Bobby is sent to Luanne and Lucky's, Hank is adament that his father will pull through, only to see his friends' concern and realizing his father could pass away. After a few times that they thought Cotton had died, and Cotton constantly taunting Hank, he leaves his father with Peggy. Peggy proceeds to verbally lament Cotton's refusal to die, and hopes that he lives forever in "The hell that you created for yourself". Cotton starts to chuckle out a "do ya now?" before dying, Hank comes in, and Peggy lying, tells him that Cotton said he was really proud of him. Later, Hank finishes his new shed (which Cotton tried to destroy) and names it after him – only to have it blown up by Dale, who was doing it for Cotton in his honor.
Trivia
This episode is Cotton's final living appearance (he is referenced in Serves Me Right for Giving General George S. Patton the Bathroom Key

).

During the scene where Bobby shows Cotton his dance moves, the song that he is playing is "Don't Cha" by the Pussycat Dolls
"Tojo whompin' sticks" is the term Cotton uses to describe the salt and pepper shakers the chef uses in preparing the Hills' dinner.
Hank is shown rebuilding the shed that Peggy and Dale blew up in the Season 11 episode Peggy's Gone to Pots.
Cotton seems to imply that his mother (Hank's grandmother) died giving birth to him.
Hank's final words to Cotton are "I gotta get out of here."
The Japanese restaurant, Tokyaki's, where food is flipped from the grill into the mouths of the patrons, "like Scooby Doo", as Bobby says, is based on the format of the Benihana Japanese restaurant chain.
Community content is available under
CC-BY-SA
unless otherwise noted.