We're Getting Mutants in the MCU - The Loop
Play Sound
Collette Davis is the owner of Hottyz who only appeared in the episode "My Hair Lady". She is voiced by Married with Children, Samantha Who?, Up All Night and Anchorman co-star Christina Applegate.
Description
She bumps into Luanne in a beauty store when she overhears her say she is a stylist. She reveals herself as the owner of Hottyz, the hippest hair salon in Arlen. Apparently she bought the messy ponytail to Arlen and two weeks later trashed it as uncool. She believes that Luanne has the Hottyz vibes, she should know as the Arlen Advocate says she invented it. She offers Luanne a job at her salon if she is able to come up with the $1400 for chair rental. Before she leaves she looks into Luanne's basket and tells her whether the items have vibe or not.
Upon seeing that Luanne and Bill Dauterive are going to be sharing a chair she tells them that this is not going to work and tells them to leave. Hesitantly after hearing that they paid a week's rent agrees for them to stay the week, but they are put as last chair. She starts to warm up to them however as they start becoming success. At a girl's night out she recognizes the two as "the hottest hair cutting team in town." While dancing with the girl's she points out John Redcorn, believing that he is checking out Bill.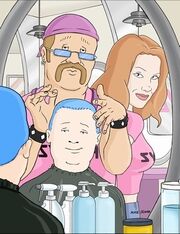 The next day, she appoints Luanne and Bill to second chair at Hottyz. She is shown to know all the hippest classes in Arlen as she talks about a party that has the girl that got kicked off American Idol cage dancing. When Bill reveals that he is not gay, she immediately fires him. Luanne later gives a passionate speech about how more accepting everyone should be and that hair doesn't care about sexual orientation, it just wants to be loved. Everyone in Hottyz is moved by her speech expect for Collette. She subsequently fires Luanne due to her speech.
Appearances