Bwah My Nose is the 246th episode King of the Hill. It originally aired on March 8, 2009. It was written by Judah Miller, Murray Miller and directed by Jeff Meyers.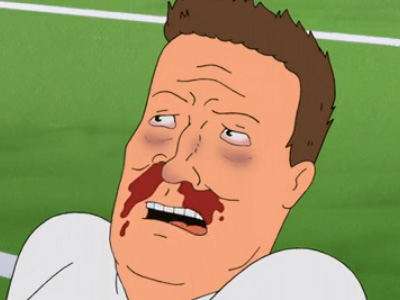 Synopsis
While practicing for a rematch of the Texas State Championship Football game he lost to the rival team, Bill accidentally breaks Hank's nose.
After getting plastic surgery, Hank becomes afraid of getting his nose broken again. However, he manages to get over his fears and wins the rematch game. Then precisely one year later the guys go to the next town over and tells the captain of the rival football team that he's a "Loser" in front of his customers at his accounting job.
Trivia
When Peggy came to the kitchen with groceries she is shown to be wearing a different outfit yet it was color in her original clothes design but later was changed into a different one.
Smitty is shown mowing the field before the rematch. However he was supposed to have retired in the Season 9 episode Care-Takin' Care of Business.
In the waiting room at Arlen Medical Associates, a framed picture of the cover of Arlen Magazine's 'The Best of Issues' claims Dr. David Cook as the best plastic surgeon. At the end of the episode, at Arlen Financial Services, a framed picture of the cover of another issue of Arlen Magazine's 'The Best of' fittingly claims a particular calculator as the best.