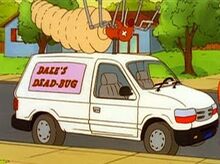 The Bugabago is the company vehicle of Dale Gribble's extermination business, Dale's Dead-Bug.
The Bugabago is a white Dodge Caravan C/V (Cargo Van) with a large fake queen ant perched on the roof. The ant can be rotated to appear dead (legs up) or alive (legs down). Building the ant was a group project of Dale and his friends/neighbors Hank Hill, Bill Dauterive and Jeff Boomhauer to help them over the emotional turmoil they shared over the death of actor Hervé Villechaize.
In addition to driving the Bugabago for his business, Dale also drove it for the company carpool when he briefly worked at Stik-Tek (although he had to remove the ant from the roof). When Joseph Gribble was twelve, he, Bobby Hill, and Connie Souphanousinphone took the Bugabago for a joyride, Joseph driving. The drive came to a quick end when Joseph hit a streetlight.