Doctor Strange in The Multiverse o Madness - The Loop
Play Sound
"Bill of Sales" is the seventy-seventh episode of King of the Hill. It was first aired on March 12, 2000. The episode was written by Paul Lieberstein, and directed by Dominic Polcino.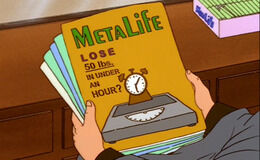 Synopsis
Peggy and Bill start selling for a pyramid scheme (Metalife), though Bill is doing all the actual sales. When they go to nationals, Peggy kisses Bill on the cheek, which upsets him. He stops selling until Peggy starts going back to insulting and belittling him. Peggy fires him when she sees Bill's blood on his bleeding left foot--and realizes she has gone too far. In the end, she apologizes and says she considers him a friend.
Characters
Trivia
Peggy and Bill's suite at the Hotel is named "Blue Bonnet Suite." This is possibly referencing Blue Bonnet Creamery which appeared in "Get Your Freak Off".
This is the first episode to feature Peggy's new computer (a Christmas present from the episode Hillennium) which is modeled after a Blueberry iMac G3.
Dale apologizes for his "misguided Y2k hysteria." This is referencing the episode "Hillennium".
Peggy comments on how she's still adjusting to a life without Sugarfoots, implying this episode is shortly after the events of "High Anxiety".
In the short montage at the end of the episode where Bill is seen loading and unloading multiple boxes into his car, the song being played is "Workin' Man Blues" by Merle Haggard.