Jurassic World: Dominion Dominates Fandom Wikis - The Loop
Play Sound
"Arlen City Bomber" is the one hundred-eighty-first episode of King of the Hill. It was first aired on March 27, 2005. The episode was written by Jonathan Collier, and directed by Kyounghee Lim.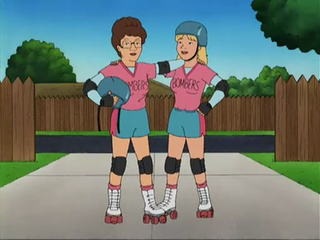 Synopsis
Luanne starts skating with a roller derby team to pay off some credit card debt, and Peggy joins too. Dismayed when team owner, Lane Pratley, deducts most of their paychecks for expenses, the players buy the team. To come up with the cash, Peggy and Luanne get even deeper into credit card debt. Meanwhile, Lucky tries to help Bobby live the experience of eating a corn chip off the factory line.
Stinger Quote
Lucky: "Scary to think about the road not traveled, huh?"
Goofs
Lucky states in this episode that if he never took a cash advance on his credit card, then he never would have slipped on pee at the Costco. However, this contradicts the Season 12 episode Life: A Loser's Manual where Lucky states he "never had one of those credit card things.
Trivia
When Bobby tells Lucky that he would like to try eating a "chip off the line", Lucky says that he'll help Bobby "run down that dream." "Runnin' Down a Dream" is a hit song by Tom Petty, who voiced Lucky.
As Peggy, Luanne and the others practice skating around, "We Are Family" by Sister Sledge played.