Arlen's Jeans West is a clothing store and denim retailer located in Arlen that sells casual wear.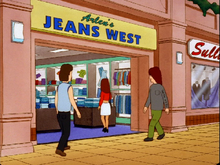 Hank worked here as a salesman during his late teen years after graduating high school and sold a pair of Jordache to his future employer, Buck.
Admiring Hank's good salesman skills, Buck offers him a job at Strickland Propane. Hank, fascinated at the idea, accepts his offer, leaving Jeans West and beginning his career, learning about propane and propane accessories.
Jeans West appears twice, only during flashbacks. It first appears in the episode The Good Buck, and later in the episode Hank Gets Dusted. The store is however mentioned at times throughout the series.